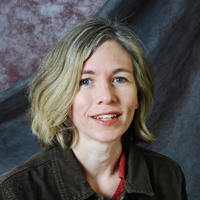 Cindy K. Harnett, Ph.D.
Group leader
cindy.harnett@louisville.edu
Publications Link
Dr. Harnett received the Ph.D. in Applied and Engineering Physics in 2000 from Cornell University in Dr. Harold Craighead's lab studying integration of nanomaterials into microfabricated systems. After a 1-year postdoc working on electron beam lithography at Cornell, she joined the staff of Sandia National Laboratories, working in the Microfluidics and Advanced Microsystems groups, then moved to the University of Louisville as an assistant professor of Electrical and Computer Engineering in 2006.
Ph.D. Student
Shaf is studying the effect of enzyme activity on conductivity at electrode arrays. The application is a sensor that can identify the most efficient variants of enzymes for turning lignin into biofuels.
Group Alumni
Ph.D. Graduate August 2017! Congratulations Jaz.
Jaz investigated the applications of electrically-polarized metal nanostructures in MEMS and microfluidics. Structures include gold nanoparticles and  metal-lined nanopores.
Ph.D. Graduate
Tom built light-actuated bistable micro- and nanodevices that require power only during switching.
Ph.D. Graduate
Evgeniya built pop-up actuators and microreactors for direct integration of nanomaterials with microdevices. She is a Process Engineer in the University of Louisville cleanroom.
Ph.D. graduate
Silpa conducted research on thermal and plasma-assisted chemical vapor deposition of sensor materials and is currently working at Intel.
Postdoc and Ph.D. Graduate
Yehya built three-dimensional microelectrodes for microfluidics, antennas, sensors and other applications.