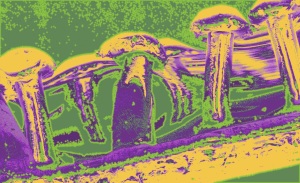 In our never-ending obsession with spraying metal on 3D structures to create interesting circuits without lithography, we found DualLock, an engineered "hook and loop" fastener. DualLock is a forest of tiny molded plastic mushrooms. When you shove two pieces of DualLock together, the mushroom caps interlock. It takes some force to separate them, and the strength depends on the kind of DualLock you bought. The tiny "low-profile" DualLock mushrooms are the weakest, but still pretty strong, and the cap diameters are <1mm, putting them in the "micro" realm.
In the gaudy purple and green electron microscope image, evaporated metal coats the tops of the mushrooms and floor, but not the stems. So you get one circuit on the floor, and a second circuit that can be formed by bending the DualLock so the caps touch. The insulating stems look wavy, because they become charged in the electron microscope. With no place for the charge to go, it builds up and then the electron beam deflects.
For smaller scale fabrication we have been able to pull out re-entrant structures (structures with overhangs, like mushrooms) from a microfabricated mold, if the molded material is squishy enough (like PDMS elastomer) and the overhangs aren't too large, and the mold is non-stick.